2020 BACOLOD TRAVEL GUIDE
Getting There, Places to Visit and Things to Do
---
---
Bacolod is pegged as the "City of Smiles" because of its people's warm and friendly nature. Also notable
for its world-renowned Masskara Festival, this city was twice hailed as the "best place to live in the
Philippines" in 2008 and 2016.
---
Aside from its history, food, sights, attractions, there's so much more Bacolod has to offer.
---
So, whether if you're planning your next solo trip or getaway with friends in Western Visayas, be sure to
pay a visit to Bacolod and get a glimpse of its culture.
---
HOW TO GET THERE
---
One of the best and most relaxing ways to travel is with the sea underneath you and the wind beneath
your hair.
The following are some of the shipping lines setting course directly to Bacolod:
---
---
For more details on shipping schedules, click here.
---
HOW AND WHERE TO BOOK
---
If you want to make your travel more efficient and wanted to avoid the intolerable waiting time of lining
up to acquire ferry tickets, then it's best that you book your tickets online, at BARKOTA.COM
Barkota Ferry Online Booking is a ferry booking site where you can book travel tickets at your convenience-
anytime, anywhere!
---
Here's how to book through Barkota.com:
-Visit Barkota.com.
-Select shipping line (2GO, SuperCat, FastCat, OceanJet, Weesam Express)
-Choose your itinerary (origin -> destination) and preferred date.
-Add passenger/s details (Name, Age, Email, Birthday).
-Confirm and Pay! You can pay via Paypal (Credit Card), ML Epay, Online Banking (almost all banks), 7-
Eleven, Over-the-Counter, and Dragonpay.
---
PLACES TO VISIT AND THINGS TO DO
---
Here's a list on what to see and do in Bacolod:
---
1.) Experience Masskara Festival
---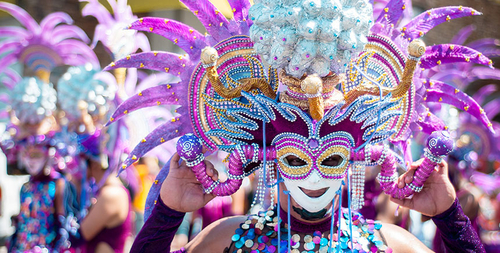 ---
The name Masskara was coined from the word "mass" which means "a multitude of people",
and "kara" which means "face". Tourists flock to the city to witness the extravaganza of colorful
masks, costumes and parades. This annual festivity is held every fourth Sunday of October.
---
2.) Feast on Chicken Inasal
---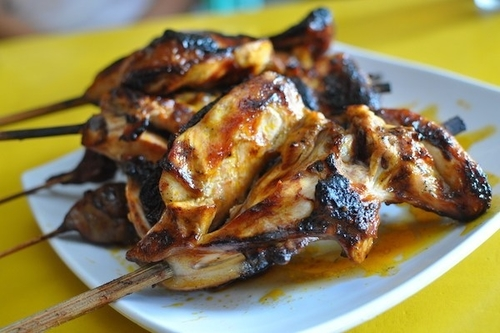 ---
One of the most highly recommended things to do in Bacolod is to try their authentic Chicken
Inasal - chicken marinated with Sinamak (Negros vinegar), ginger, onions, garlic and spices,
based with anato oil then skewered and roasted over an open flame. Manokan Country, a
complex of open-air restaurants serving Chicken Inasal, is a popular spot for locals and tourists.
Manokan Country
Address: Father M. Ferrero St, Bacolod City
---
3.) Learn about the local history and culture from the Negros Museum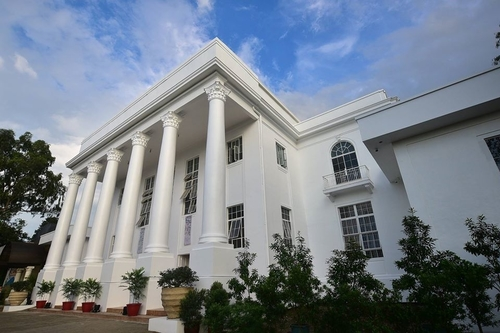 ---
Served as Negros Occidental's provincial museum, The Negros Museum promotes a deep
understanding of the Negrense culture, history, artistic practice, and ecology. It started its
construction from 1987 and situated at the Provisional Capitol Building which was inaugurated
on 16th of March 1996.
Entrance Fee (may subject to change without prior notice):
General Admission - Php50.00
Senior Citizens - Php40.00
Students and Children - Php20.00
Hours
Sunday Closed
Monday 9:00AM – 6:00PM
Tuesday 9:00AM – 6:00PM
Wednesday 9:00AM – 6:00PM
Thursday 9:00AM – 6:00PM
Friday 9:00AM – 6:00PM
Saturday 9:00AM – 6:00PM
Address: Gatuslao corner Lacson Street, Bacolod, Negros Occidental Philippines
Phone: +63 34 433 4764
---
---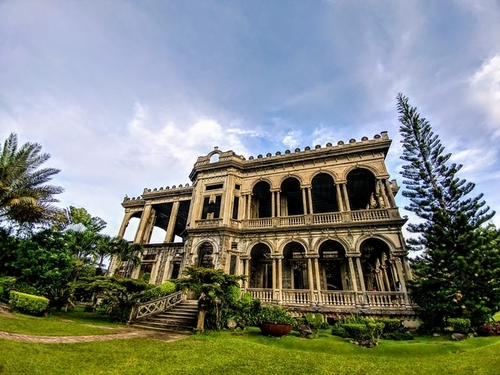 ---
The Ruins is an ancestral mansion of the family of Don Mariano Ledesma Lacson and Maria
Braga Lacson. It was built in 1920 but was burned by Filipino guerillas for three days straight in
1942 who were against Don Mariano's approval of using it as headquarters for Japanese soldiers
during World War II. It is said that the mansion was built from a mixture of sand, cement, and
egg white, making it withstand calamities and disasters.
Now, it is considered as a popular tourist destination and can also be rented for special events
like weddings and family gatherings.
Entrance Fee
Adults – Php100.00
Students – Php 50.00 (must present a valid school ID)
Senior Citizens – Php60.00
Children below 8 years old – Php20.00
The Ruins
Address: Talisay City, Bacolod, Negros Occidental
Business Hours: Open daily from 8:00AM – 8:00PM
---
5.)  Go for fun at Campuestohan Highlands
---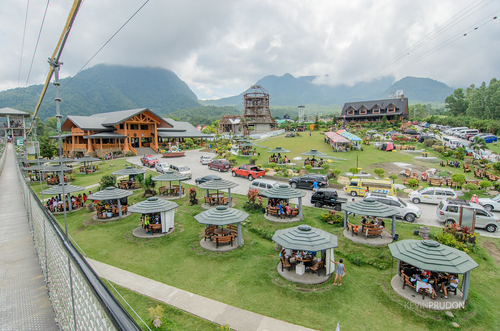 ---
Campuestohan Highlands is a family-oriented highland resort with facilities such as swimming
pools, playground, zipline, coffee shop, ice cream parlor, and spa, and as well as spots that are
perfect for picture-taking. It is stationed 800-meters above sea level, which makes you get to
see the fog surrounding the place.
Entrance Fee
Php200.00 per person
Children below 2 years old are free
Daytime Accommodation
Big Cottage - Php1,200.00 (20 persons)
Small Cottage - Php700.00 (15 persons)
Umbrella Hut - P500 (10 persons)
---
WHERE TO STAY
---
1.) White Hotel
Address: 42 Burgos Ave, Bacolod, 6100 Negros Occidental
Phone: (034) 705 8869
2.) Hometown Hotel
Address: 26th Lacson St, Bacolod, 6100 Negros Occidental
Phone: (034) 707 3145
3.) The Hostelry at Rolis
Address: La Salle Ave, Bacolod, 6100 Negros Occidental
Phone: 0966 368 3296
4.) 11th Street Bed and Breakfast
Address: 12 Lacson St, Bacolod, 6100 Negros Occidental
Phone: (034) 433 9191
5.) HKV Hometel
Address: Lot 7-A Makiling St. Brgy. Villamonte, Bacolod, 6100 Negros Occidental
Phone: (0933) 167 3205
---
Make 2020 a year of experiencing new adventures! Discover the wonders of Bacolod today and book your ferry tickets ahead at Barkota.com.