2020 DUMAGUETE TRAVEL GUIDE
Getting There, Places To Visit, Things to Do
---
---
Being hospitable is one of the most admired traits of Filipinos, which always leaves a mark to foreigners
visiting the Philippines. Called as the "The City of Gentle People", Dumaguete is known to be a town
where locals treat guests, and even strangers, in a warm, friendly and generous way.
---
Considered as a popular university hub for its universities and colleges, Dumaguete is also where
students from Visayas and Mindanao provinces usually enroll for tertiary education.
---
Dumaguete was coined from the Visayan word "dagit", which means "to snatch". Dumaguet, meaning
"to swoop", was coined because of the frequent attacks of Muslim pirates on this coastal community
and its power to entice and keep visitors for good.
---
HOW TO GET THERE
---
Travelling by ferry is usually a great experience! It's the perfect opportunity to take travel
photographs, read a book, or just relax with the ones you love.
The following are some of the shipping lines setting course directly to Dumaguete:
---
For more details on shipping schedules, click here.
---
HOW AND WHERE TO BOOK
---
If you want to make your travel more efficient and wanted to avoid the intolerable waiting time
of lining up to acquire ferry tickets, then it's best that you book your tickets online, at
BARKOTA.COM
Barkota Online Booking is a ferry booking site where you can book travel tickets at your
convenience- anytime, anywhere!
---
Here's how to book through Barkota.com:
-Visit Barkota.com.
-Select shipping line (2GO, FastCat, Lite Shipping, Medallion, OceanJet, Super Shuttle Ferry)
-Choose your itinerary (origin -> destination) and preferred date.
-Add passenger/s details (Name, Age, Email, Birthday).
-Confirm and Pay! You can pay via Paypal (Credit Card), ML Epay, Online Banking (almost all
banks), 7-Eleven, Over-the-Counter, and Dragonpay.
---
PLACES TO VISIT AND THINGS TO DO
---
Here are some notable tourist spots you should check when visiting Dumaguete:
---
1. Visit to Siliman University's Anthropology Museum
---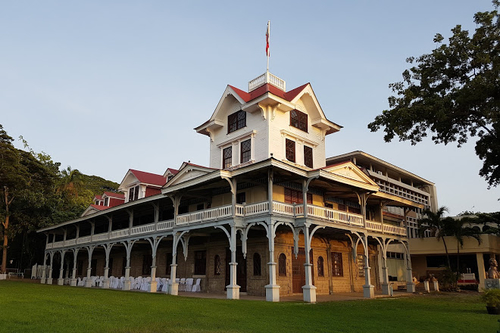 ---
One of the few educational institutions in the Philippines that have granted full autonomous
status by Commission on Higher Education (CHED), Siliman University has their Anthropology
Museum which has collections composed of archaeological items from all over Negros and parts
of Mindanao and ethnological items from the various indigenous groups from Luzon, Visayas
and Mindanao.
---
Entrance Fee
Monday – Saturday
General Admission – Php100.00
Student – Php40.00
Holidays (per request)
General Admission – Php200.00
Student – Php100.00
---
2. Stroll around Rizal Boulevard
---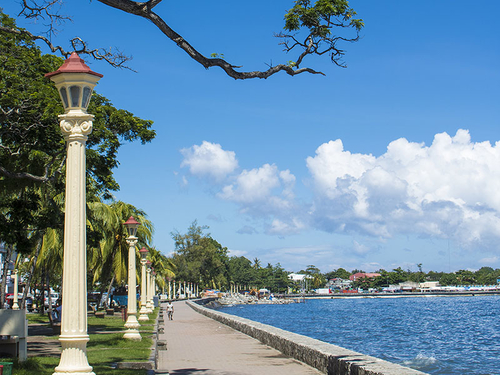 ---
One of the most famous spots in Dumaguete, this boulevard is close to coffee shops,
restaurants, bars and other establishments. Lined with benches overlooking the sea, relish the
moment watching the sunrise and sunset.
---
3. Pray at St. Catherine of Alexandria Cathedral
---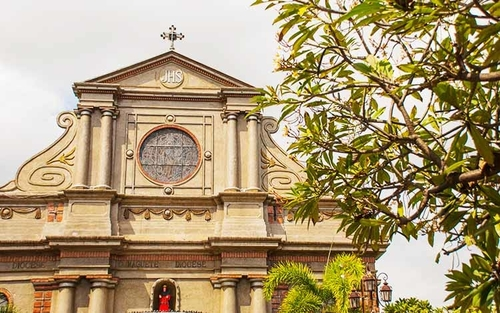 ---
Known as the oldest stone church in Negros Island, St. Catherine of Alexandria Cathedral is
situated in Perdices Street for hundreds of years and has been reconstructed in the year 1885.
Right beside the Dumaguete Cathedral is its Belfry Tower, which was built for locals to protect
them from Muslim marauders.
---
Sunday Masses Schedule
Morning:
4:30AM Cebuano Mass
5:45AM Cebuano Mass
7:00AM Cebuano Mass
8:15AM (Misa Propolo)
9:30AM English Mass
11:00AM English Mass
Afternoon:
1:15PM English Mass
2:45PM Cebuano Mass
4:00PM Cebuano Mass
5:30PM Cebuano Mass
7:00PM Cebuano Mass
---
4. Witness Pulangbato Waterfalls
---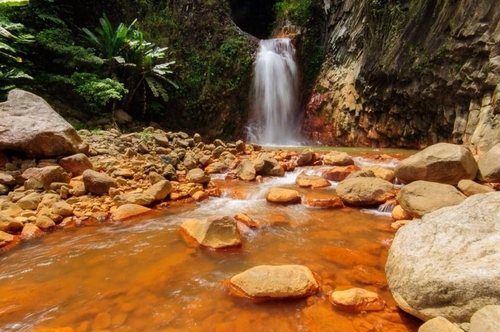 ---
In dialect, "pula" means red while "bato" means rock, hence aptly named Pulangbato. The
sulfur deposits that covers the walls of the waterfalls make the red/orange appearance. Located
in Valencia, drive from Dumaguete City will take about 30 minutes.
---
Entrance Fee
Adult – Php50.00
Child (10 years and below) – Php20.00
Locker rental – Php25.00
Cottage (Day Rental) – Php300.00
Table with chairs (Day Rental) – Php200.00
Guesthouse – Php2,000.00 for day rental / Php3,000.00 for overnight
---
5. Eat Silvanas and Sans Rival
Complete your trip by paying a visit to Sans Rival Cake & Pastries and taste the famous, mouth-
watering Silvanas and Sans Rival. These two are perfect "pasalubong" to your family and friends.
---
WHERE TO STAY
---
1.) The Flying Fish Hostel
Address: 32 Bantayan, Hibbard Ave, Dumaguete
Phone: 0956 796 8820
2.) Casa Arrieta Hostel
Address: 142 Hibbard Ave, Dumaguete
Phone: 0917 532 4543
3.) Gabby's Bed and Breakfast
Address: Cimafranca Subdivision, Clay Town, Daro, Dumaguete
Phone: 0906 328 3374
4.) Antwet Backpackers Hostel
Address: Capitol Site, Dumaguete
Phone: 0922 297 4134
5). Bongo Bongo Divers
Address: J. Basa St, Dauin, Dumaguete
Phone: 0906 202 2152
---
Make 2020 a year of experiencing new adventures! Discover the wonders of Dumaguete today and book your ferry tickets ahead at Barkota.com.