2020 Surigao Travel Guide: Things To Do and How to Get There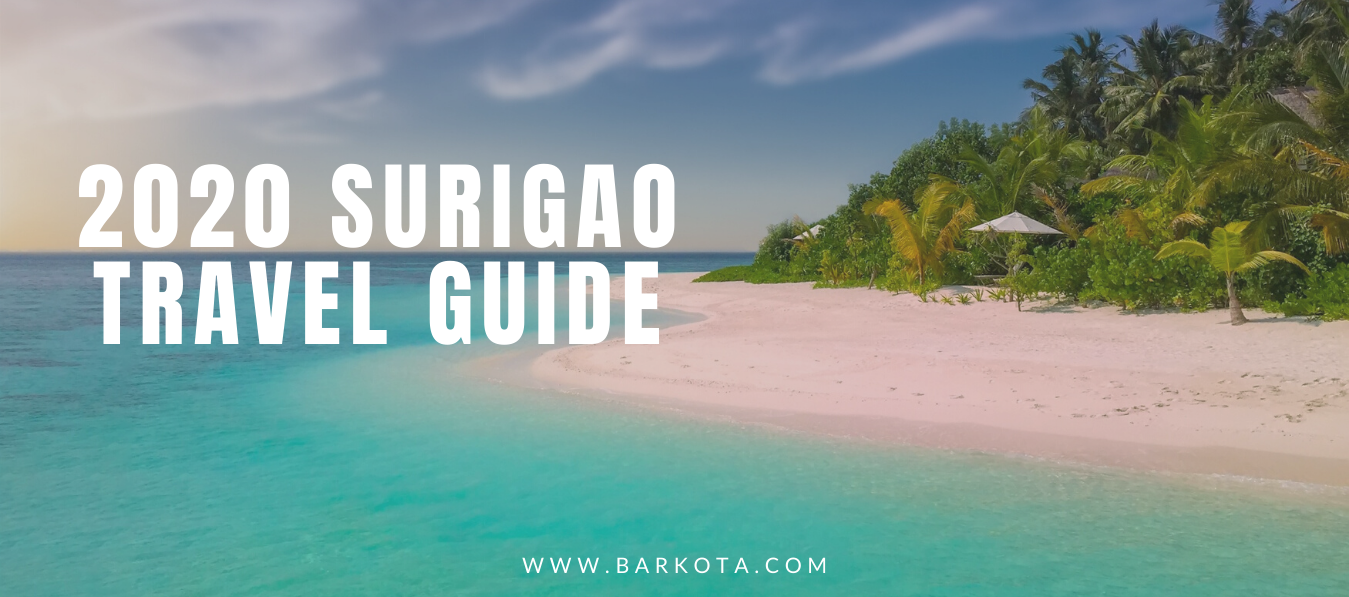 ---
Surigao is one of the places you should try to visit in the Philippines. Many had probably confused or misspelled this place to Siargao Island, but it's never a deal anyway since, both offers great attractions among tourists and locals as well.
---
The province is hereby divided into two provinces, one to be known as Surigao del Norte and the other as Surigao del Sur.
---
Surigao City is Surigao del Norte's capital city meanwhile, Tandag City is Surigao del Sur's capital.
---
You can always travel by bus if you are within the Mindanao area. However, you can also travel by ferry if you're in an inter island trip. Here is the list of shipping lines that plies to Surigao.
---
---
Medallion's Cebu to Surigao schedule is Mondays, Wednesdays and Fridays at 8:00 PM. Moreover Surigao to Cebu's schedule is Tuesdays, Thursdays and Sundays at 8:00 PM as well.
---
---
Starlite Ferries Cebu-Surigao's trip schedule is daily at 10:00 AM. Meanwhile, trip schedule for Surigao to Cebu is daily at 9:00 PM.
---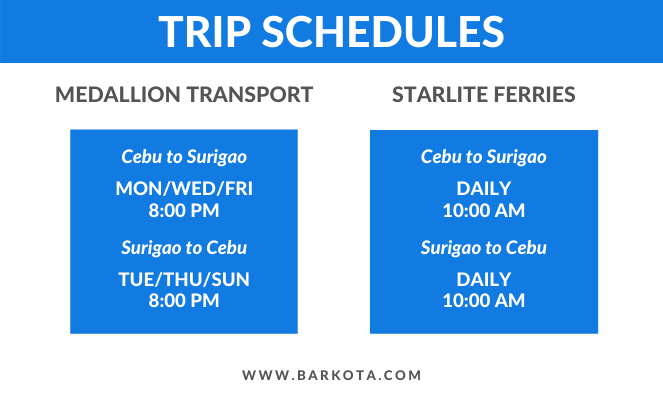 ---
For more details on shipping schedules, click here.
---
Moreover, if you want to make your travel more efficient and avoid those intolerable times of lining up to acquire ferry tickets, then it's best that you book your at BARKOTA.COM.
Barkota Online Booking is a ferry booking site where you can book ferry tickets at your convenience- anytime, anywhere!
Here's how to book through Barkota.com:
---
Visit Barkota.com.
Select shipping line (Medallion Transport, Lite Shipping, Jomalia, Fastcat, G&P Lines, Transasia, etc.)
Choose your itinerary (origin -> destination) and preferred date.
Add passenger/s details (Name, Age, Email, Birthday).
Confirm and Pay! You can pay via Paypal (Credit Card), ML Epay, Online Banking (almost all banks), 7-Eleven, Over-the-Counter, and Dragonpay.
---
If you have never been to Surigao before then it is indeed a high time to see it's wonders. Here are the places to see and things to do at Surigao.
---
1 .Bucas Grande Island
Bucas Grande is an island in the province of Surigao del Norte where abundant scenery of lagoons, coves, caves can be found. One of its main attraction is the spotted stingless jellyfish and some are found at Sohoton Jellyfish Sanctuary where they are being protected and just recently the tourism office had prohibited people to swim with these creatures.
---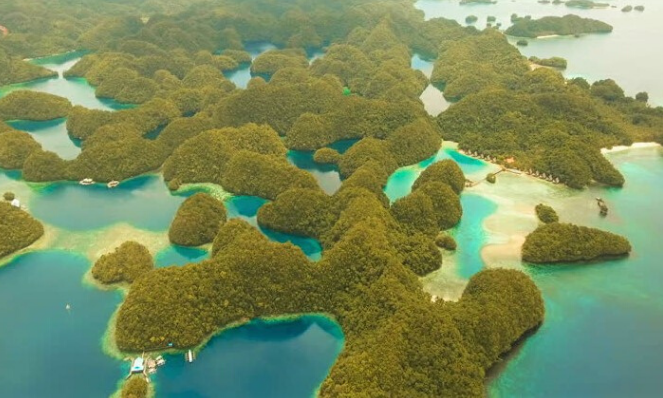 Image Source: Shutterstock.com
---
2.  Mabua Pebble Beach
This beach might be unusual at first because instead of fine sands, what covers the water floor are smooth rocks or pebbles, as the name of the beach suggests. The beach is located 30 minutes away from the city. The smooth pebbles provide a relaxing effect as you step into the water.
---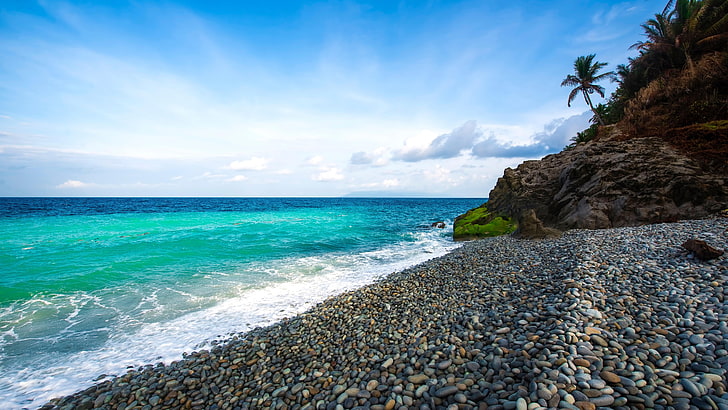 Image Source: Wallpaperflare.com
---
3. Hinatuan River
Hinutuan river is a stretch of deep spring river and is indeed living out its name as an enchanted river. It was a bit puzzling since for a long time, there's no knowing how deep the river was (Although recent record shows that it is around 80-feet deep) and as to where this flow of water comes from. But the comely shades of blue and green and clear waters seem to dwindle the bewilderment.
---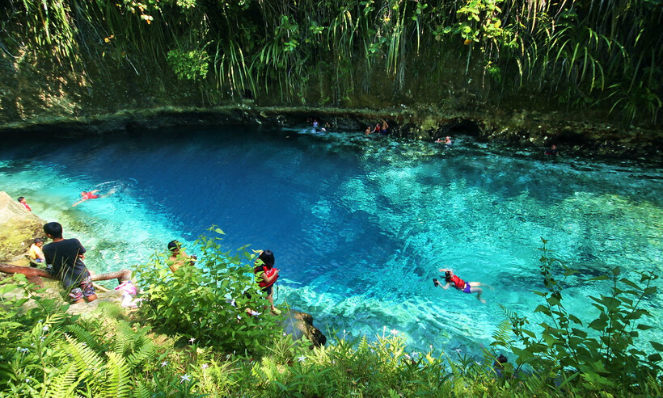 4. Laswitan Lagoon and Falls
 One of the featured destinations in Surigao is the Laswitan lagoon and falls where it is mostly visited by tourists during summer. What's comely about this tourist spot is that its great waves create a waterfall over the formed rocks in the lagoon. Moreover, Laswitan Lagoon was featured on a TV program where the particular spot was being enjoyed by travel enthusiasts.
---
5. Silop Cave
Silop cave is a multi-cave system located just 15 minutes away from the city proper. There are 6 caves and only two are open for tourists since some of the caves are a bit hazardous and are deep with low oxygen levels.
---
Image Source: Clubparadisemanila.home.blog
---
---
Surigao has a lot of good stays that offers comfort to tourists after a day's stroll and adventure. Here is the list of the hotels that you can check.
---
---
---
So , what are you waiting for? Make sure to check off more destinations from your bucket list this year and book your ferry tickets for your next Surigao getaway!